Discover more from Behind the shed - A newsletter about amazing sheds
A newsletter about sheds, no ordinary sheds - Shed of the year sheds - Sign up for the latest #shedoftheyear news
Over 1,000 subscribers
Behind the shed - Issue #45
Entry Closes Midnight Wednesday 31st May (TOMORROW 😫)
Buy me a Coffee | Instagram | Facebook | Popular Sheds | Contact
Shed of the year 2023 news
Hope you had a great long Bank holiday weekend, Sheddies (in the UK). I have notice people putting finishing touches to their sheds at the last minute - Some great photos coming in, good weather brings out the cameras it seems.
Anyway, PANIC as it's just over 1 day left to Enter your shed into #shedoftheyear 2023
A recap for Entry
We have two new categories this year, mainly for people who don't have pub sheds (our mostly popular category) or massive sheds, "Simple But Effective" but still have great spaces, also those sheddies who have colourful ones, we have "Most Colourful Shed" (Thanks to our sponsors Cuprinol for that one) looking forward to seeing those great sheds, they have also upped the amount of products the winner now gets £250 worth of Cuprinol products.
If you missed the news last newsletter, we have a set date to add your shed for the 17th year of #shedoftheyear, entry closes Wed 31st May 2023 at Midnight, We are also looking for a minimum of 6 photos for entry (no max, but some people send in over 40!)
---
Win some Cuprinol
Even if you have not entered your shed this year (WHY NOT) - you can still give your shed some love, #shedoftheyear sponsors, Cuprinol, have offered 10L (2 X 5L tins) of Ducksback or Garden Shades product to give away to one lucky Sheddie

UK Entry only - Closes 30th June 2023
---
Shed entries
Some of the recent entries to this year's competition, a sneak peek below on my Instagram, but you need to look on the web to see them in their glory.
Andrew Wilcox - Head Sheddie I♥sheds on Instagram: ""This shed is called The Frankenshed because it was brought back from the dead. It was a standard 8′ x 4′ timber shed that had been left to rot at the bottom of a neglected garden. When I began renovating it the floor was 80% rotten, so was the roof and so was the window sill. By all rights it should have been torn down and replaced. But I saw the potential for something special. " Colourful - Greater London
#shedoftheyear
owned by Archie Proudfoot https://www.readersheds.co.uk/share.cfm?shareshed=8296
#shedsofinstagram
#shed
#workshop
#artist
#artistsoninstagram
"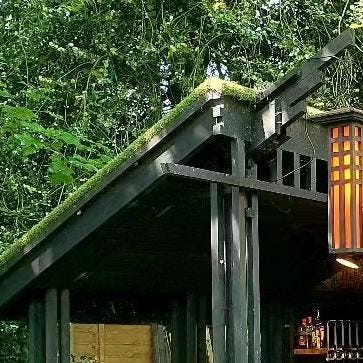 Andrew Wilcox - Head Sheddie I♥sheds on Instagram: "The Smugglers' Notch - "The Smuggler's Notch, named for a mountain pass in Vermont in the US, has a bar under a canopy facing onto the garden. Behind the bar is the traditionally styled 'Snug' with a collection of books and artefacts, some of which used to grace my father's home bar. The wood burning fire in the hearth is a simulation, as is the fish tank." Pub/Entertainment - West Midlands
#shedoftheyear
#pubsheds
https://www.readersheds.co.uk/share.cfm?shareshed=8307″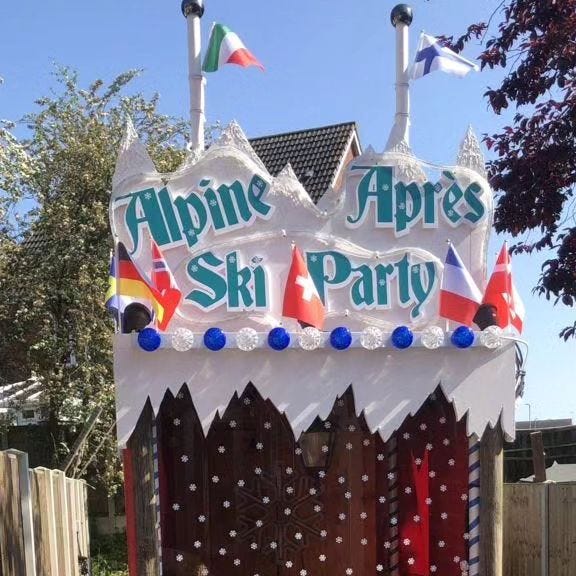 Andrew Wilcox - Head Sheddie I♥sheds on Instagram: "The Alpine Ski Party - "The structure was built by myself as a pop-up type bar, that has a 1960s Swiss alpine theme & can be moved around easily" Unexpected/Unique - Nottinghamshire
#shedoftheyear
owned by Nick Cowling https://www.readersheds.co.uk/share.cfm?shareshed=8306
#shedsofinstagram
#sheds
#alphine
#ski
#swiss
"
Enter your shed here.
---
Other shed stuff
Love the details here from Lee's latest model House>
The ten best sheds in the world ever!
OK according to me - Uncle Wilco - Head Sheddie and founder of Shed of the year, so yep it's my own view (so I'm biased!), but we have them all from workshops, Bars, Railway sheds, Writing sheds to the very first winner in 2007 - The Roman Temple and a lot of British eccentricity So here are some of my favourite sheds over the past 17 years of running shedoftheyear - well, 10 of them - I love all the sheds, so it was very difficult to get it down to ten :) So, In no particular order.
»»»»»>
---