Discover more from Behind the shed - A newsletter about amazing sheds
A newsletter about sheds, no ordinary sheds - Shed of the year sheds - Sign up for the latest #shedoftheyear news
Over 1,000 subscribers
Behind the shed - Issue #43
Shed of the year 2023 entry - Closes end of this month!
Buy me a Coffee | Instagram | Facebook | Popular Sheds | Contact
Shed of the year 2023 news
So less than 4 weeks left to Enter your shed into #shedoftheyear 2023
A recap for Entry
We have two new categories this year, mainly for people who don't have pub sheds (our mostly popular category) or massive sheds, "Simple But Effective" but still have great spaces, also those sheddies who have colourful ones, we have "Most Colourful Shed" (Thanks to our sponsors Cuprinol for that one) looking forward to seeing those great sheds, they have also upped the amount of products the winner now gets £250 worth of Cuprinol products.
If you missed the news last newsletter, we have a set date to add your shed for the 17th year of #shedoftheyear, entry closes Wed 31st May 2023 at Midnight, We are also looking for a minimum of 6 photos for entry (no max, but some people send in over 40!)
Big thank you to shed of the year Sponsors
Cuprinol
---
Shed entries
The Potting Shed - Unexpected/Unique
"Made from reclaimed materials. It is a useful space for potting up & overwintering tender plants. It has loads of storage for all the tools & garden treasures." Cheshire East #shedoftheyear owned by Claire Jackson

The Ship Of The Line - Pub/Entertainment - "It's an all-year round Pub & Cinema to enjoy inside and out. The interior wood is upcycled from a 60yr-old Royal Naval nautical chart table from HMS Beagle"
Devon #shedoftheyear owned by John 'Bungy' Williams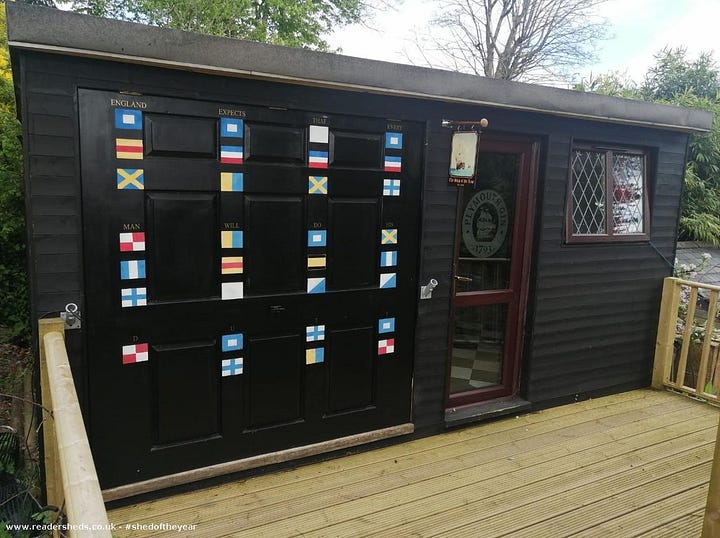 The Shooting Star - Pub/Entertainment -"Designed & built solely by my wife & I using scrap pieces and offcuts from projects we work on, I created all the furniture by hand, we have state of the art lighting (on a budget) a fully stocked bar, dartboard and the building is insulated using packing from Hello Fresh! All in a space of under 8 sqm! "

Greater London
#shedoftheyear owned by Danny Lennon #pubsheds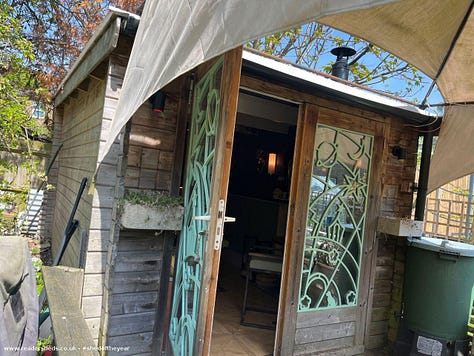 Pallet Shed - Workshop/Studio - "The shed has two windows, is fully insulated and heated and has power and data to allow it to work as an office all year round, I had a blast building it! " West Midlands #shedoftheyear owned by Joe Harris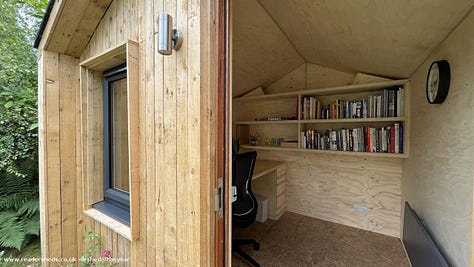 ---
Other shed stuff
Perfect allotment shed?
As it's #MayThe4thBeWithYou this week

Have various Star Wars characters dancing by their garden sheds on an allotment on the forest moon of Endor generated by bing Ai - look at them, they are so happy with their sheds!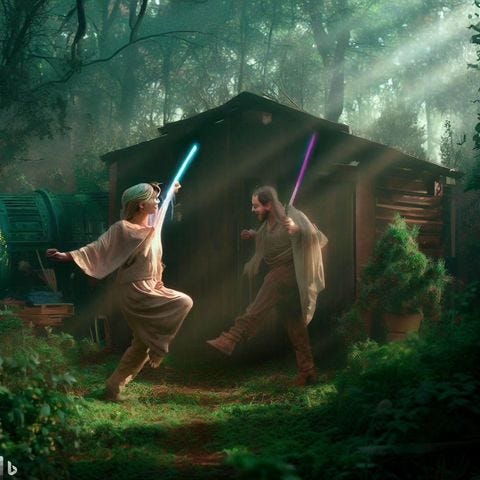 Lovely>
---